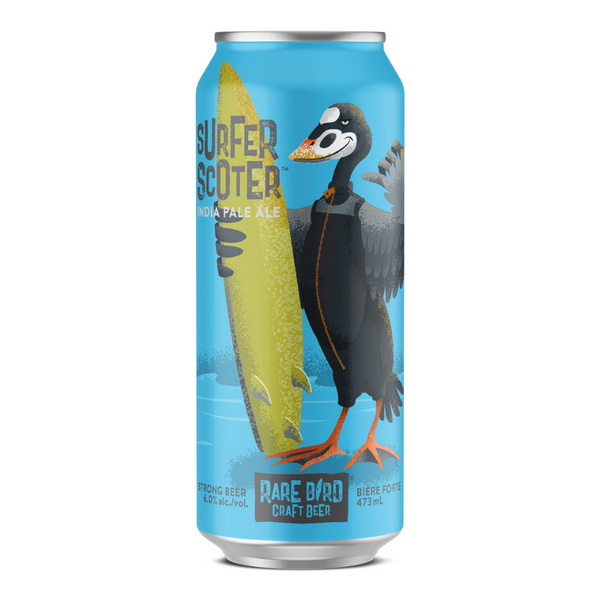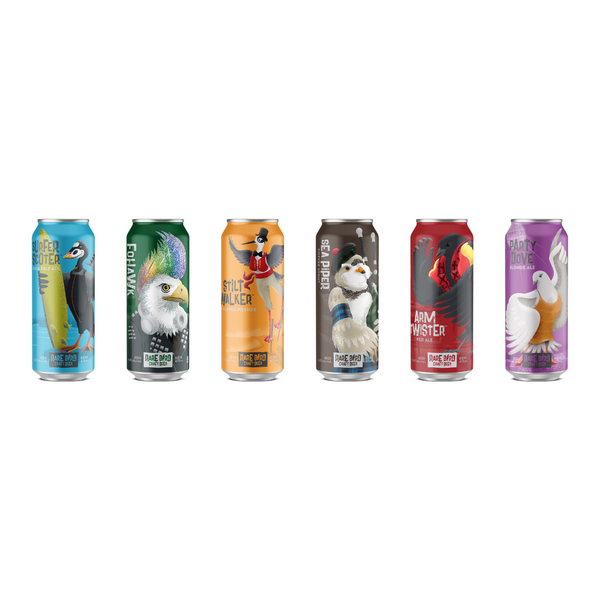 THE BEER (India Pale Ale)
LIKE A TIDAL WAVE, OUR IPA ARRIVES WITH A BIG HIT OF HOPS. CITRA, NUGGET & CASCADE DELIVER DELICIOUS CITRUS & PEACH NOTES UP FRONT, BEFORE COMING INTO BALANCE WITH CARAMEL FLAVOURS FROM MALTED BARLEY & WHEAT. THE RIDE FINISHES CLEAN & DRY, OFFERING A MOMENT TO CONTEMPLATE THAT NEXT EPIC WAVE.

473mL Can
Strong Beer, 6.0% alc./vol.
THE BIRD (Surf Scoter)
SURF'S UP DUDE!  GRAB THE BOARD FOR THIS HOPPY WAVE HEADING YOUR WAY.  FIND ME AT THE BEACH OR ANYWHERE THERE'S A SALTY BREEZE, AS AERIALS ARE MY THING. MY WEBBED FEET MAKE IT EASY TO HANG TEN AS I RIDE THE BOMBS WITH STYLE.

To learn more about our Rare Bird flock, visit www.rarebirdbeer.com
Craft brewed by Authentic Seacoast Distillery & Brewery www.authenticseacoast.com
Available at NSLC.
Please note our alcohol products are for 19 years of age and older, can only be shipped within Canada except to Ontario.
Dear Ontario, we regret that we are not permitted to ship directly to you BUT we invite you to enjoy our Fortress Rum , Glynnevan Double Barrelled and Cabot Tripple Barrelled Whisky - it is available from your local LCBO Store and their online store.  SOCIABLE!