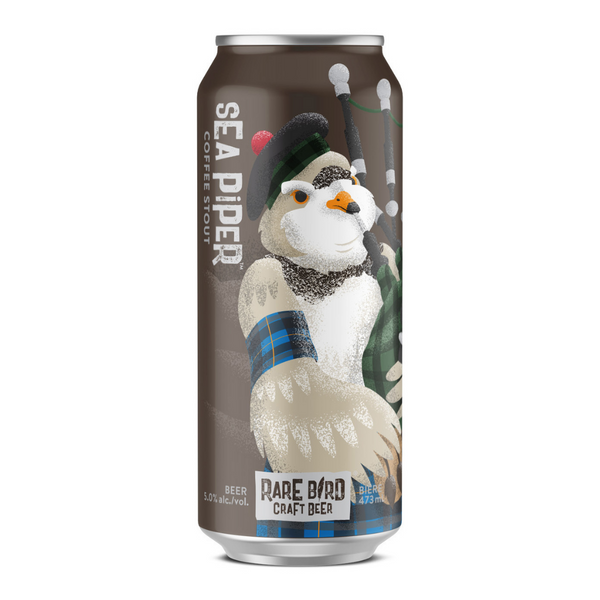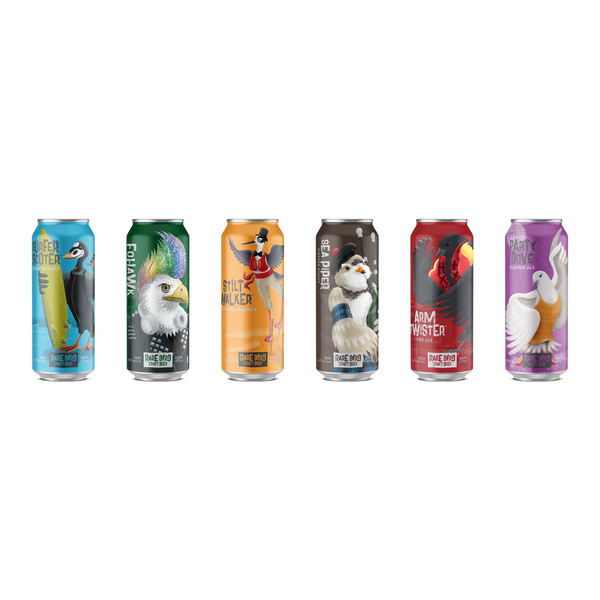 THE BEER (Coffee Stout)
A HEARTY BREW BUILT FOR PIPING WITH GUSTO! OUR 7-GRAIN BREWED MASH IS SET OFF WITH WARRIOR AND FUGGLES HOPS.  ADDING OUR ORGANIC FULL STEAM® COFFEE AND DRIED LICORICE ROOT, WE CRAFT A RICHLY FLAVOURED, CHOCOLATEY COFFEE STOUT THAT POURS BLACK AS A STARLESS NIGHT.
473mL Can
5.0% alc./vol.
THE BIRD (Piping Plover)
THE PIPES ARE CALLING! FROM CAPE BRETON'S CLIFFS, TALL SHIPS IN HALIFAX HARBOUR, TO OUR SANDY SHORES AND KITCHEN CÈILIDHS. THE EAST COAST IS WHERE I CHOOSE TO NEST. MY BAGPIPE MELODY IS MY ODE TO NOVA SCOTIA, WHICH WILL ALWAYS BE HOME.
To learn more about our Rare Bird flock, visit www.rarebirdbeer.com
Craft brewed by Authentic Seacoast Distillery & Brewery www.authenticseacoast.com
Available at NSLC.
Please note our alcohol products are for 19 years of age and older, can only be shipped within Canada except to Ontario.
Dear Ontario, we regret that we are not permitted to ship directly to you BUT we invite you to enjoy our Fortress Rum , Glynnevan Double Barrelled and Cabot Tripple Barrelled Whisky - it is available from your local LCBO Store and their online store.  SOCIABLE!